THE NEW MFSB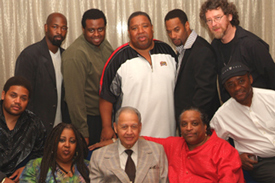 (seated from left to right) - Barton French, Carla Benson, Zach Zachary, John Ingram, Dennis Harris; (second row) -Damon Bennett, Terry Tyler, Keith Benson, Michael Clark, Jim Gallagher
Biographies

JOHN INGRAM
JOHN INGRAM—Lead Vocalist

Johnny began singing, playing drums, and playing piano in his father's church, at the age of three. A true prodigy by the age of seven, he even played the tuba for his elementary school band. By the time Johnny was twelve years old he was performing professionally throughout the Delaware Valley with his four brothers.

Johnny traveled the world performing with R&B legends Al Green and Patti LaBelle for over fourteen years. In 2002 he was featured in the Grammy Award-Winning Film, "Standing in the Shadows of Motown," about Motown's prodigious studio band–the Funk Brothers. Johnny toured the world with the Funk Brothers until 2004 when he left to assume the role of lead singer with MFSB. Johnny has appeared on the Tonight Show with Jay Leno, and has a cameo role in the first-run movie, "A Soldier's Story."



CARLA BENSON
CARLA BENSON—Lead Vocalist

Carla Benson is an original member of MFSB. She sings the top note on most of the Philadelphia International Record's hits. She has a Bachelor's degree in music from Rowan University, and is a highly-trained classical vocalist (soprano). On more than a few occasions Carla would have to sing hit songs by day, and full operatic arias by night.

Carla sang with Patti LaBelle for seven years,was featured in the movie, along with Johnny, "Standing in the Shadows of Motown," appeared on the soundtrack of Eddie Murphy's Beverly Hills Cop, toured with the Funk Brothers, and appeared on the Tonight Show with Jay Leno. She left the Funk Brothers in 2004 to reclaim her roots— MFSB. Carla has the distinction of appearing on more hit records with more name artists than any other vocalist in the history of the record business.



MICHAEL CLARK
MICHAEL CLARK—Lead Vocalist

Mike Clark grew up in Newark, New Jersey and officially began his performing career headlining at the Tropicana Hotel Casino, in Las Vegas, in 1989. A dynamic and energetic performer, Mike broke attendance records at the Tropicana and was sent to Atlantic City's Trump Marina Hotel Casino where he continued to gain in reputation, until he was finally connected with the Philadelphia (MFSB) musicians.

Mike is a huge hit on the hotel circuit and has been a New Year's Eve tradition for the pst five years at Philadelphia's Ritz Carlton Hotel. He also toured with the Funk Brothers. So when his friends, Johnny and Carla asked him to join them, with MFSB, he too made the move.